The oldest Maxxtracks ski slope simulator is 10+ years old and still in continuous operation.
Rigid steel construction
High quality powder coating
Stainless steel nuts and bolts
Standard fitted with boarding, fencing, kick boards and handrails.
All platforms are finished with long-life artificial grass.
Our slopes in 3D: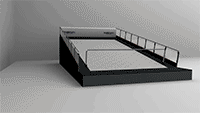 Maxxtracks Indoor Skislopes
" The best alternative to a long outdoor descent !"