Experienced skiers confirm a nett slope width of 500+ cm is essential for developing the correct technique. This is the minimum width to ensure the correct knee bend, body movement and timing. It is of critical importance.
Our slopes in 3D: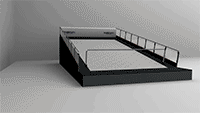 Maxxtracks Indoor Skislopes
" The best alternative to a long outdoor descent !"