The Maxxtracks Mirrors will allow you to see yourself ski.
So you can better understand where you can improve and our non-stop slopes mean you can get in meaningful length ski runs.
While resting behind the mirror, they provide excellent look through.
Maxxtracks Mirrors  are of superior quality:
Top quality, so no optical distortion
Superior look through with minimum damping
Rigid safety glass
Shatter prevention glass
Our slopes in 3D: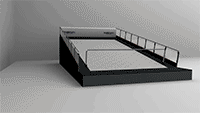 Maxxtracks Indoor Skislopes
" The optimum and endless downhill ! "