Maxxtracks slopes are known to have a very low noise level and to be vibration free!
Clients can hear instructors clearly during their lesson & feedback.
Typical noise level Big Maxx: < 65 dB
Our slopes in 3D: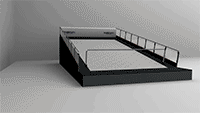 Maxxtracks Indoor Skislopes
" The best alternative to a long outdoor descent !"