The front bar provides beginners - a stable reference.
For children, given the difference in height, it is recommended to have a lower front bar.
The height of the hydraulic front bar is instantly adjustable
between 73 cm. / 28 inch and 123 cm. / 48 inch.

Our slopes in 3D: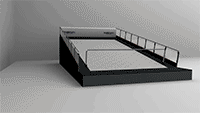 Maxxtracks Indoor Skislopes
" The best alternative to a long outdoor descent !"