Product Quality
Structural Quality
DURABILITY keeps the Maintenance Costs low
The oldest Maxxtracks ski slope simulator is 10+ years old and still in continuous operation.
Rigid steel construction
High quality powder coating
Stainless steel nuts and bolts
Standard fitted with boarding, fencing, kick boards and handrails.
All platforms are finished with long-life artificial grass.
Slope Width of 500cm+
CRITICAL for Correct technique
Experienced skiers confirm a nett slope width of 500+ cm is essential for developing the correct technique. This is the minimum width to ensure the correct knee bend, body movement and timing. It is of critical importance.
Hydraulically Tilt-able Slope
Instant Varable Slope Angle: 9-22 degrees
Provides optimum angle setting for every ski and snowboard level.
Push button control
Smooth and quiet hydraulic operation.
MAXX-GRASS & Belt System
Quality & Durability
The best available ski carpet on the Market:
3-layer base belt
Superior ski and snowboard performance
Stability and Durability
Lower friction level
Long-life !
Low Noise Level
NO INTERFERENCE when speaking at normal levels.
Maxxtracks slopes are known to have a very low noise level and to be vibration free!
Clients can hear instructors clearly during their lesson & feedback.
Typical noise level Big Maxx: < 65 dB
Over-rated Motor and Drive
Low Maintenance, Extreme Durability & Reliability
Global Prime parts manufacturer
Extensive worldwide maintenance and distribution facilities.
Only 5 minutes of maintenance, twice per year
Low power consumption
Safety Controls
Substantial REDUCTION in injuries
Control of the surface speed:
4 x Safety shutdown switches
Wireless handheld controllers
Soft start and stop of slopes
Protective surrounds
Safety Glass Mirrors
Specifically produced for Maxxtracks
The Maxxtracks Mirrors will allow you to see yourself ski.
So you can better understand where you can improve and our non-stop slopes mean you can get in meaningful length ski runs.
While resting behind the mirror, they provide excellent look through.
Maxxtracks Mirrors  are of superior quality:
Top quality, so no optical distortion
Superior look through with minimum damping
Rigid safety glass
Shatter prevention glass
Hydraulically Height Adjustable Front Bar (option)
Additional safety feature for training of minors
The front bar provides beginners - a stable reference.
For children, given the difference in height, it is recommended to have a lower front bar.
The height of the hydraulic front bar is instantly adjustable
between 73 cm. / 28 inch and 123 cm. / 48 inch.

Digital Control Panel (option)
Management Control & Flexibility
Touch screen control at the slope
Providing:
Preset slope operations
Power Consumption Data
Integration with Maxx-sys Reservation Planner
Efficiency & power management
Higher quality Client education and feedback
EC Certification Compliance
Peace of Mind
Produced, delivered and assembled in compliance with UL guidelines and rules and the European Community CE guidelines and rules.
Fully installed, turn-key delivery
12 month warranty
Our slopes in 3D: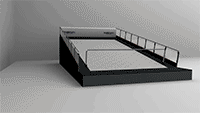 Maxxtracks Indoor Skislopes
" The optimum and endless downhill ! "