Various options
MAXX-SYS
Skicentre Information System
A dedicated lessonplanner and customer management system for indoor skischools.
The System contains:
A lesson planner with a daily, weekly and monthly overview ( 1 to 4 tracks)
A bookingsprogramme with a repeating pattern
A yearplanner, to close days with a certain reason(holiday, private lessons)
A customer relation management (direct mailing, email and query selections)
An invoice control
An overview of total lessons per day, week, month, etc.  (management erporting)
General settings changed easily
Basic data
A back-up and restore function, with daily, weekly or monthly check
Height Adjustable Front Bar
The front bar provides beginners a stable reference. 
For children, given the difference in height, it is recommended to have a lower front bar.

The optional height adjustable front bar can quickly be set:
To any height between 73 cm. and 123 cm.
To any height between 28 inch and 48 inch
By simple push button control
Using smooth running hydraulic cylinders

For minors:

Height of the frontbar:

For adults:

Height of the frontbar:

 
Confrontation Mirror
The Maxxtracks Confrontation Mirror will allow you to see yourself ski.
So you can better understand where you can improve and our non-stop slopes mean you can get in meaningful length ski runs.
While resting behind the mirror, they provide excellent "look through".
Maxxtracks Safety Glass Mirrors are of superior quality:
Rigid safety glass
Shatter prevention
Top quality, so no optical distortion
Superior look through with minimum damping
Our slopes in 3D: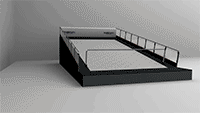 Maxxtracks Indoor Skislopes
" The best alternative to a long outdoor descent !"