MIDI MAXX : ISB980
Indoor skislope simulator
Normal utilisation 4-6 persons per hour
"Full free movement, no strapping in !"
In order to permit making good turns, with the correct knee bending, body movement and timing etc., the width of the ski surface is of utmost important.
A net ski width of 500 cm./16.4 ft. (plus ample sidewalks), is considered to be essential by all experienced skiers.
Surface Angle:
All our Indoor Skislopes are standard fitted with a surface angle that can instantly be varied with the push of a button between 9 - 20 degrees.
Surface Speed:

The surface speed can be set to
the optimum speed for ski
and snowboard.

With the wireless control,
inclusive a "soft" start/stop,
to prevent falling over.
At the main control box,
inclusive a "soft" start/stop,
to prevent falling over.
General data:
Gross length +/- 10,50 mtr./ 34.5 ft.
Net 'skiing' length 7,50 mtr./ 24.6 ft.
Gross width +/- 6,55 mtr./ 21.5 ft.
Net 'skiing' width 5,00 mtr./ 16.5 ft.
Slope Angle: Hydraulic adjustable 10-19 degrees
Continuously adjustable surface speed
Radio-controlled.
Fence all around.
Front Handrail.
Rigid steel frame, fully corrosion protected.
Fixing materials: electrogalvanised and/or of stainless steel.
"Quality Without Compromise !"
Our slopes in 3D: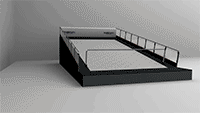 Maxxtracks Indoor Skislopes
" The optimum and endless downhill ! "