BIG MAXX : ISB2000
Indoor skislope simulator
Normal utilisation 5-8 persons per hour
"Full free movement, no strapping in !"
Surface Size:
In order to permit making good turns, with the correct knee bending, body movement and timing etc., the width of the ski surface is of utmost important.
A net ski width of 500 cm./16.4 ft. (plus ample sidewalks), is considered to be essential by all experienced skiers.
All our Indoor Skislopes are standard fitted with a surface angle that can instantly be varied with the push of a button between 9 - 20 degrees.
The surface speed can be set to
the optimum speed for ski
and snowboard.

With the wireless control,
inclusive a "soft" start/stop,
to prevent falling over.
At the main control box,
inclusive a "soft" start/stop,
to prevent falling over.
Gross length +/- 12,90 mtr./ 42.2 ft.
Net 'skiing' length 9,50 mtr./ 31 ft.
Gross width +/- 6,55 mtr./ 21.5 ft.
Net 'skiing' width 5,00 mtr./ 16.5 ft.
Slope Angle: Hydraulic adjustable 10-19 degrees.
Continuously adjustable surface speed
Radio-controlled.
Fence all around.
Front Handrail.
Rigid steel frame, fully corrosion protected.
Fixing materials:electrogalvanised and/or of stainless steel.
"Quality Without Compromise !"
Our slopes in 3D: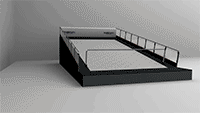 Maxxtracks Indoor Skislopes
" The optimum and endless downhill ! "