NO !
The instructor is in permanent control of stopping the slope and using a hand-held remote control

The instructor

normally even stops the slope before

you may fall.

The slope is made of soft nylon tufts that hurt a lot less than falling on ice (and it's not cold !).
Our slopes in 3D: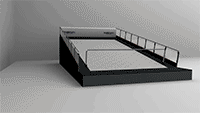 Maxxtracks Indoor Skislopes
" The best alternative to a long outdoor descent !"