YES !
If you can ski/snowboard well at the Indoor Slopes, you will be even better on snow !
The surface is made of soft nylon tufts, so riding on our slopes does at first "feels" a little different than snow, but the technique is exactly the same.
Small classes: it's like a private lesson!
The instructor is setting angel and slope speed to match your level.
Our slopes in 3D: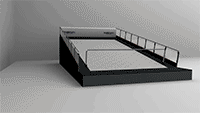 Maxxtracks Indoor Skislopes
" The best alternative to a long outdoor descent !"