YES !
You learn up to 8-10 times faster than on real mountains.
This is because of our endless slope technology - no lift lines, stops, or interruptions provide a flawless canvas for quick and easy learning.
Our slopes in 3D: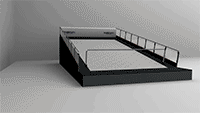 Maxxtracks Indoor Skislopes
" The optimum and endless downhill ! "