YES!
They are not struggeling in the cold
Time spent at the Indoor Slopes gives your children the confidence they need.
Children enjoy ski/snowboard from the moment you arrive at the real snow
A

voiding the need for their

expensive lessons at resorts, you can spend much more

time skiing/snowboarding with you children.
Our slopes in 3D: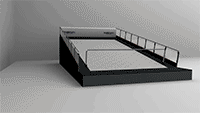 Maxxtracks Indoor Skislopes
" The optimum and endless downhill ! "