Maxxtracks profile
The company was founded in 1991, with the focus on sports and recreation.
Clients can rely on more than a decade of extensive operational knowledge and experience.
MaxxTracks skislopes are manufactured in The Netherlands, according stringent EC rules,to provide indoor ski centers, sports clubs, climbing halls, fitness centers etc.
We have developed a dedicated and extensive support program, comprising:
Ski centre lay-out advisory
Operational management and consultancy
Training of skislope instructors
In-house ski maintenance and waxing
In-house shops for all ski related material
Skislope simulators maintenance
Maxxtracks: " Quality Without Compromise ! "
Our slopes in 3D: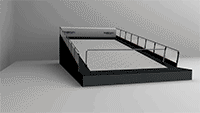 Maxxtracks Indoor Skislopes
" The best alternative to a long outdoor descent !"